Sub category Feature image

Sub-Category Intro
Soft Tissue allografts for wound management and reconstruction are used to facilitate wound closure. Graft properties can vary, with some grafts providing only a barrier and protective covering.1,2 Grafts of placental origin focus on covering wounds and acting as a barrier, and acellular dermal matrices provide a scaffold into which a patient's cells can migrate, attach and proliferate.
Placental and dermal allografts are used for the treatment of acute burn injuries, chronic wounds, and surgical reconstruction.
Flow chart image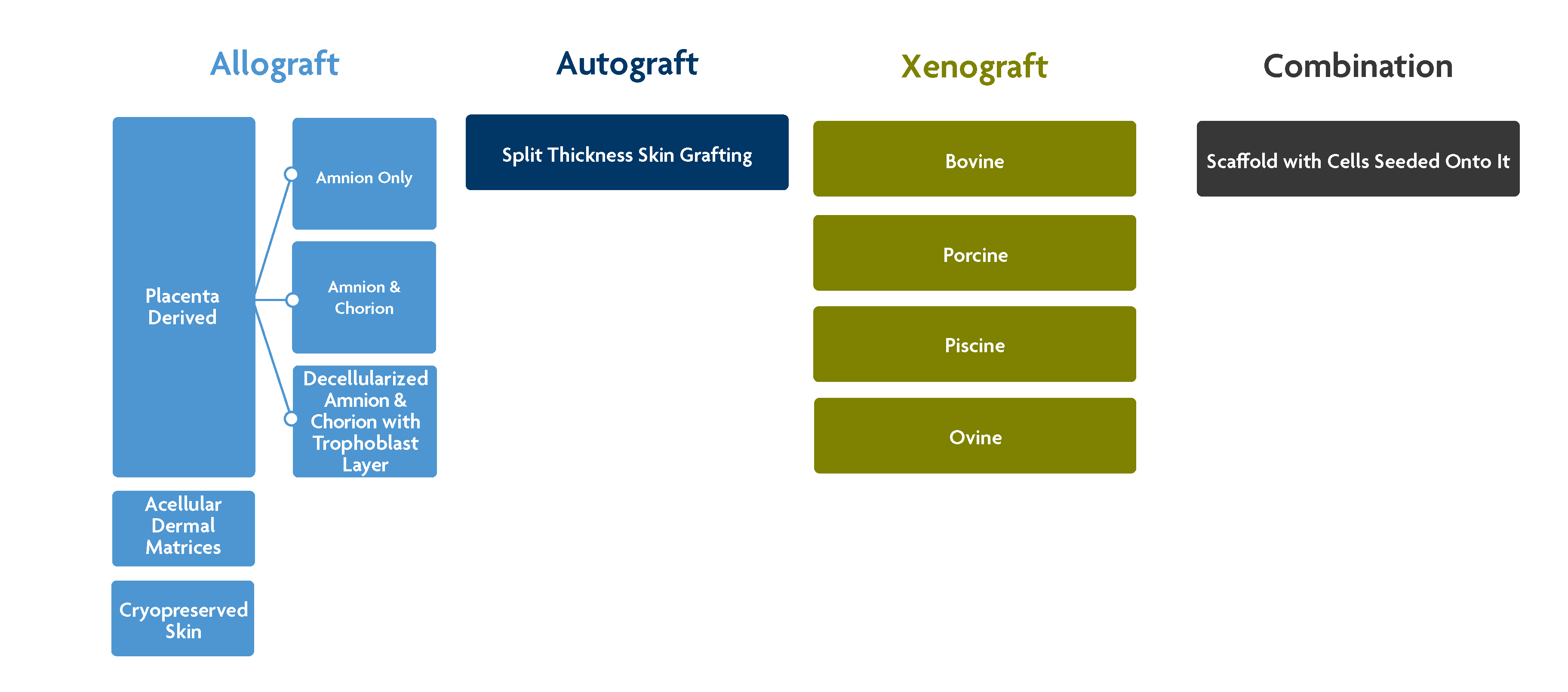 Comparison of graft properties
 

Scaffold

Potential for Human Growth Factors

Viable Cells

Autograft

✔

✔

✔

Allograft Cryoskin

✔

✔

✔

Allograft Placental Membrane

✔

✔

✔*

Allograft Acellular Dermal Matrix

✔

✔

 

Combination Grafts

✔

 
 
Xenografts

✔

 
 
*Varies by product and processing. Most allograft placental membranes do not contain viable cells.
Autograft split-thickness skin - a portion of the upper layers of skin taken from a second surgical site on the patient.3
Allograft cryopreserved split-thickness skin – Split-thickness skin graft recovered from a deceased donor (with family authorization). This type of graft is cryopreserved to maintain cell viability.4
Allograft placental membrane-derived grafts5 – Placental grafts are obtained from a living donor who has experienced a healthy live birth. Grafts of this type are typically lyophilized, but there are some which are cryopreserved to maintain cell viability. There are three main configurations:
Amnion-only
Amnion-chorion
Amnion-chorion-trophoblast layer
Allograft acellular dermal matrix (ADM)2– These grafts are composed of the dermis layer of the skin. The cellular content has been removed to allow integration into the patient's own tissue. Sterility can vary with some grafts provided with only aseptic processing while others have medical device sterility.
Combination grafts1 – These grafts contain xenograft, human, and synthetic components
References
References
Megahed MA, Elkashity SA, Talaab AA, AboShaban MS. The Impact Of Human Skin Allograft As A Temporary Substitute For Early Coverage Of Major Burn Wounds On Clinical Outcomes And Mortality. Ann Burns Fire Disasters. 2021 Mar 31;34(1):67-74. PMID: 34054389; PMCID: PMC8126363.
Petrie K, Cox CT, Becker BC, MacKay BJ. Clinical applications of acellular dermal matrices: A review. Scars Burn Heal. 2022 Jan 19;8:20595131211038313. doi: 10.1177/20595131211038313. PMID: 35083065; PMCID: PMC8785275.
Braza ME, Fahrenkopf MP. Split-Thickness Skin Grafts. [Updated 2022 May 8]. In: StatPearls [Internet]. Treasure Island (FL): StatPearls Publishing; 2022 Jan-. Available from: https://www.ncbi.nlm.nih.gov/books/NBK551561/
Landsman A, Rosines E, Houck A, Murchison A, Jones A, Qin X, Chen S, Landsman AR. Characterization of a Cryopreserved Split-Thickness Human Skin Allograft-TheraSkin. Adv Skin Wound Care. 2016 Sep;29(9):399-406. doi: 10.1097/01.ASW.0000489991.32684.9e. PMID: 27538107.
Tahan AC, Tahan V. Placental amniotic epithelial cells and their therapeutic potential in liver diseases. Front Med (Lausanne). 2014 Dec 8;1:48. doi: 10.3389/fmed.2014.00048. PMID: 25593921; PMCID: PMC4291892.