Category Introduction
Bone Grafts
Navigating the multitude of available bone grafts, also known as osteobiologics, is challenging because there are many commercial options available. The goal of this site is to provide foundational information about different types of bone grafts to make comparison easier.
three Properties of Bone Grafts1
Bone grafts may contain one, two, or all three of these properties depending on their origin and how they were processed and preserved. 
Image Block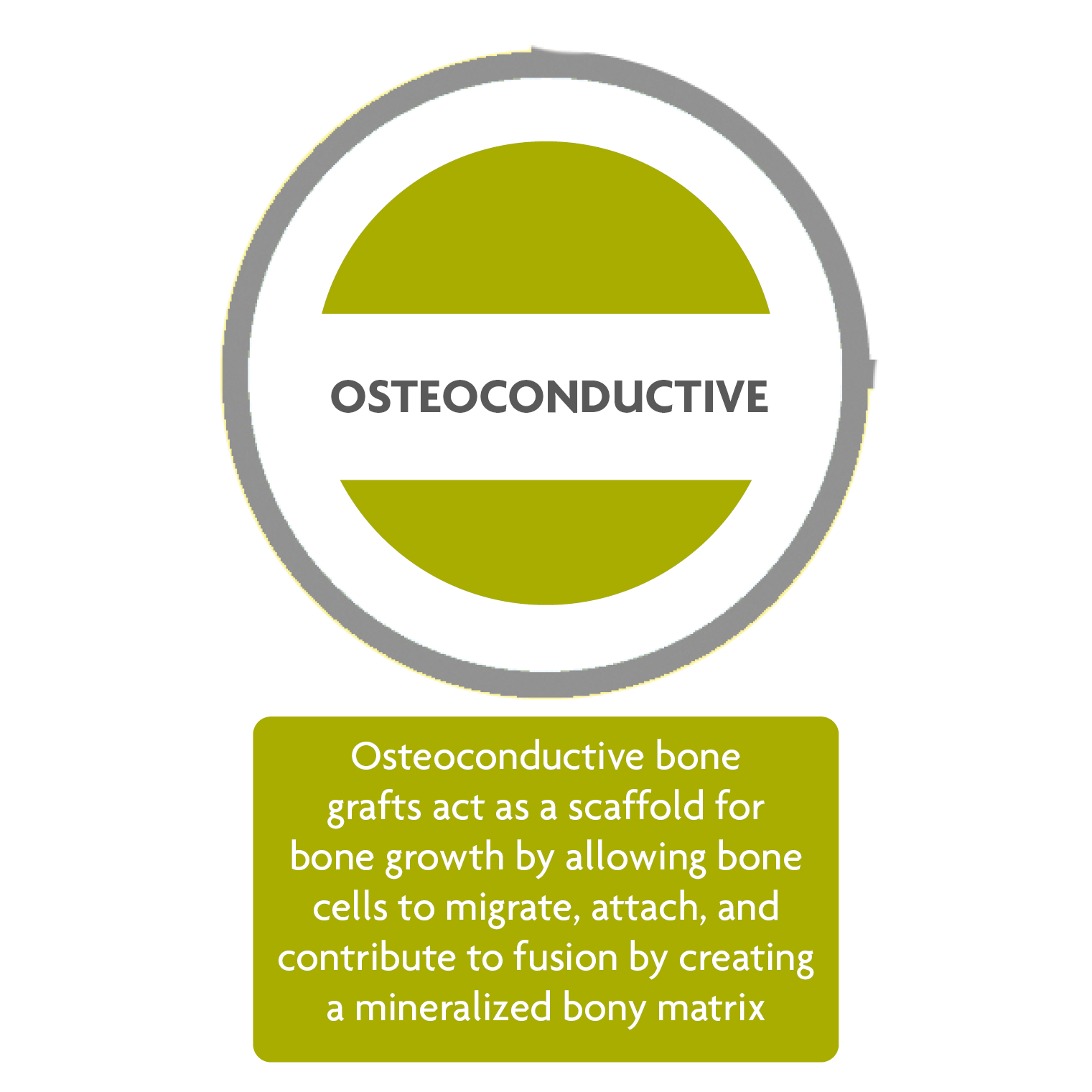 Image Block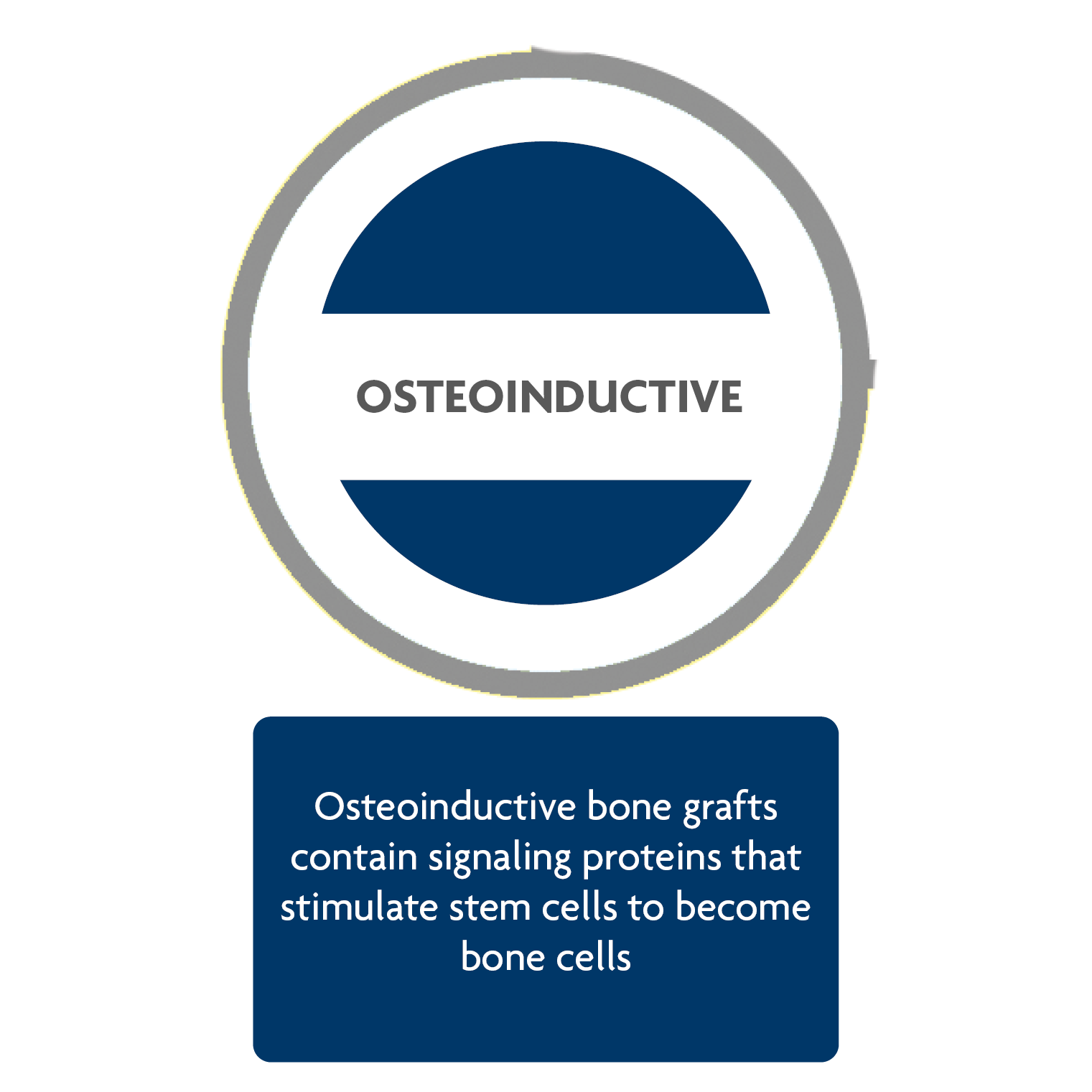 Image Block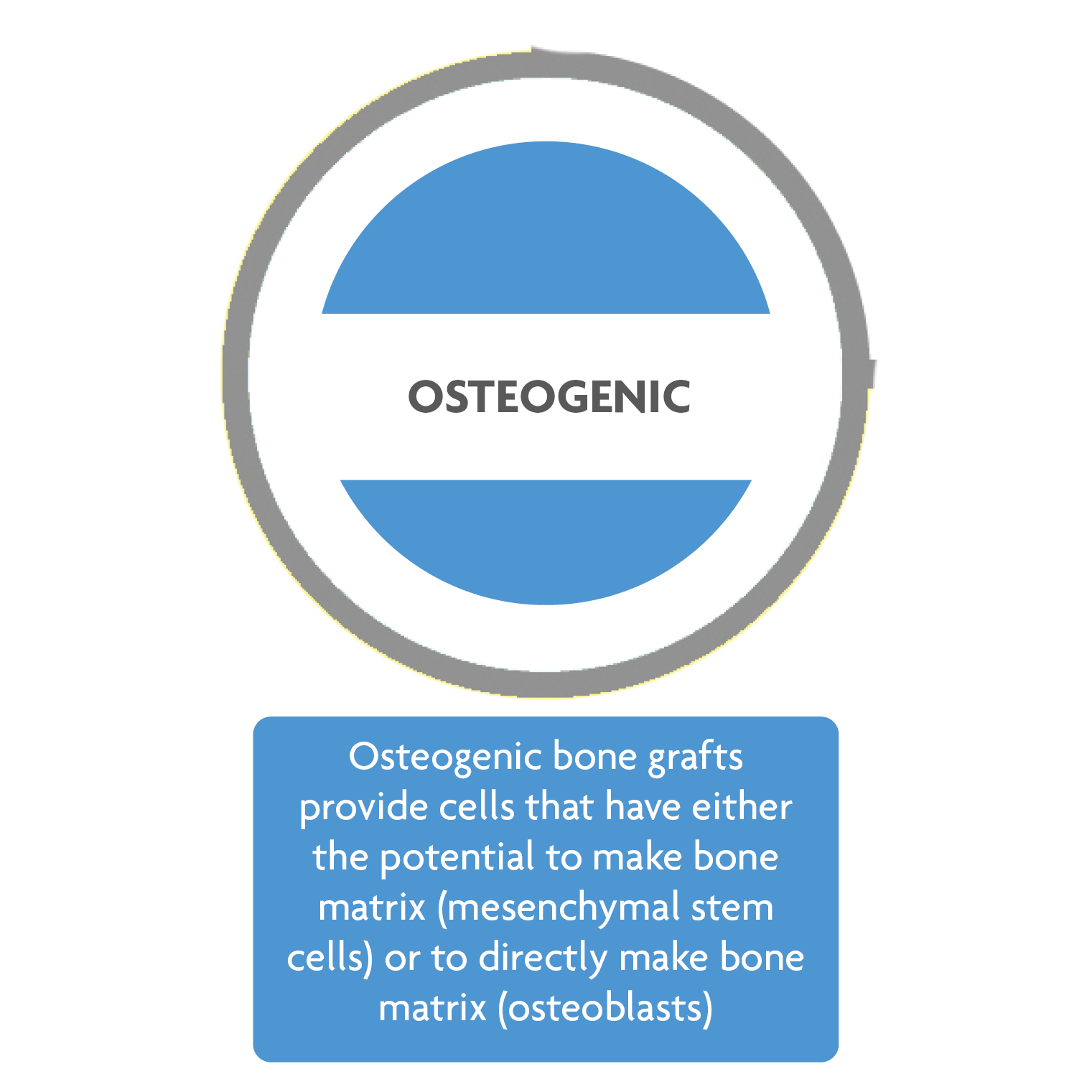 COMPARISON OF GRAFT PROPERTIES

 

Osteoconductive  
 

Osteoinductive  
 

Osteogenic  
 

Mineralized Bone Allografts

 ✔

 

 

Demineralized Bone Matrix

✔

✔

 

Cellular Bone Matrix

✔

✔

✔

Autograft*

✔

✔

✔

Synthetics

✔

 

 

Recombination Proteins

 

✔

 

Combination Grafts

✔

✔

 

Xenograft

✔

 

 
*Autograft is partially demineralized, and therefore its osteoinductivity (signals) are unenhanced compared to grafts with fully demineralized bone.
Image Block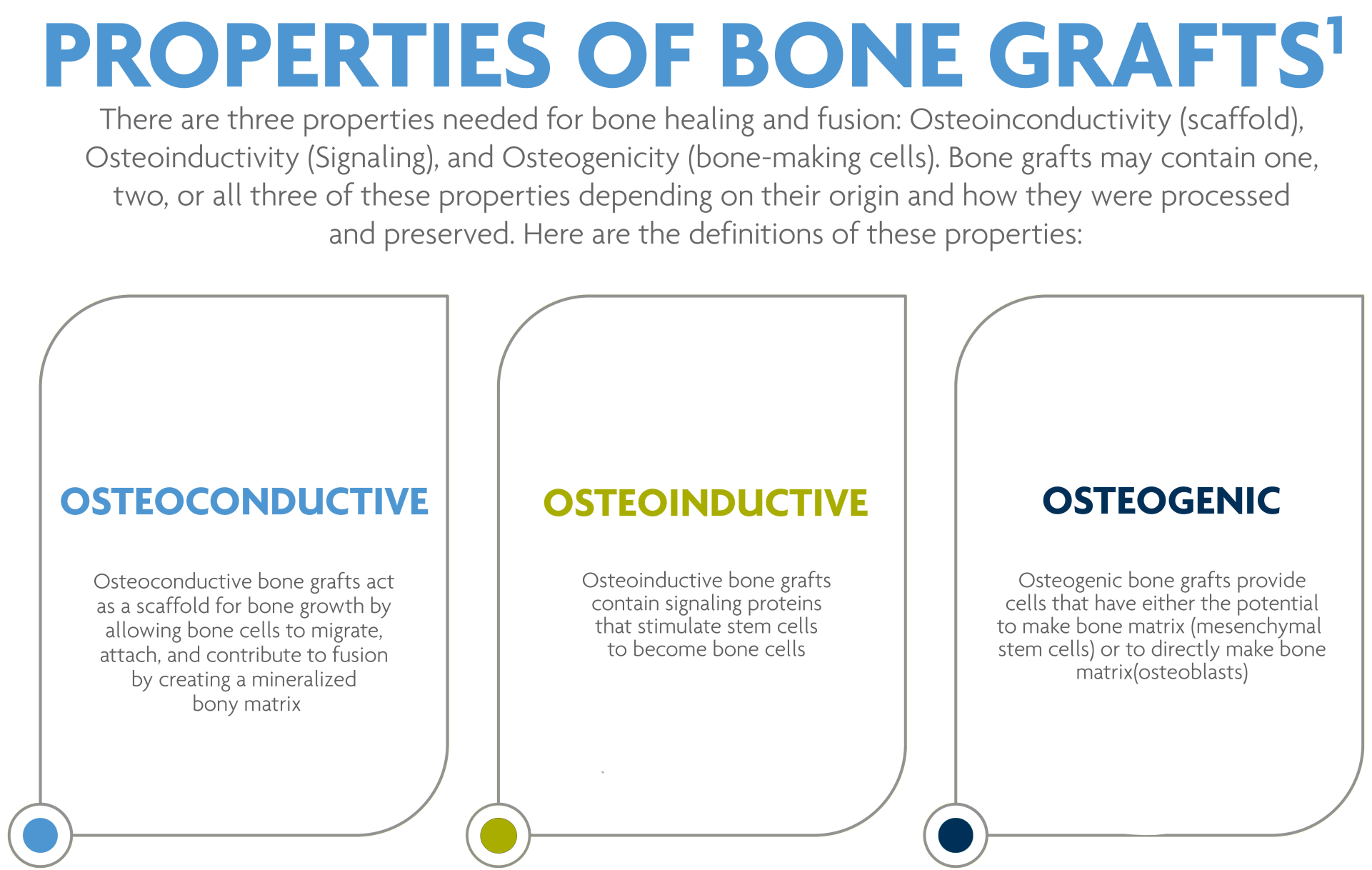 Flow Chart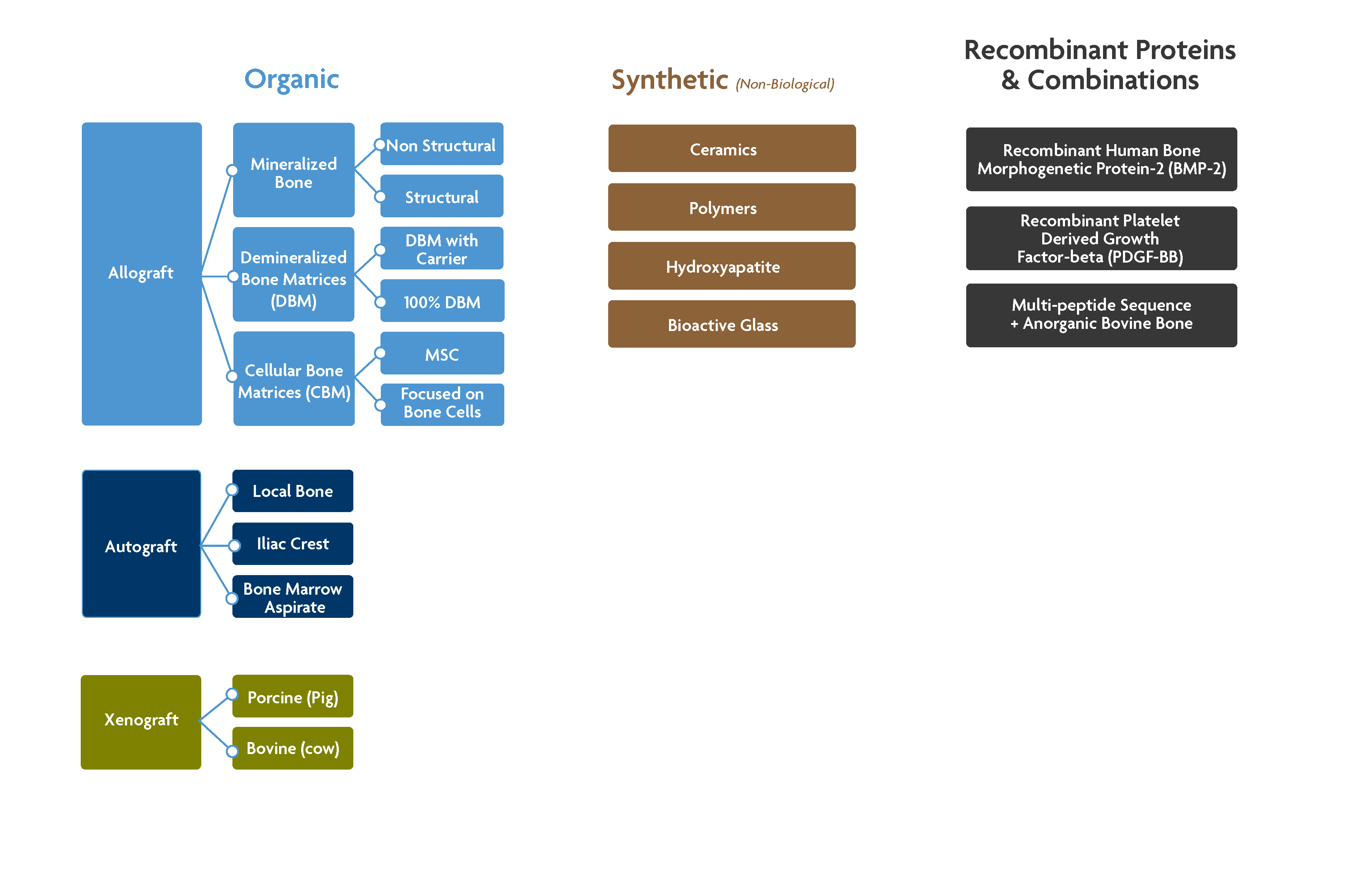 Reference
Reference
Baldwin P, Li DJ, Auston DA, Mir HS, Yoon RS, Koval KJ. Autograft, Allograft, and Bone Graft Substitutes: Clinical Evidence and Indications for Use in the Setting of Orthopaedic Trauma Surgery. J Orthop Trauma. 2019 Apr;33(4):203-213. doi: 10.1097/BOT.0000000000001420. PMID: 30633080
Cohen JD, Kanim LE, Tronits AJ, Bae HW. Allografts and Spinal Fusion. Int J Spine Surg. 2021;15(s1):68- 93. doi:10.14444/8056
Shibuya N, Jupiter DC. Bone graft substitute: allograft and xenograft. Clin Podiatr Med Surg. 2015 Jan;32(1):21-34. doi: 10.1016/j.cpm.2014.09.011. PMID: 25440415. AND https://www.ncbi.nlm.nih.gov/pmc/articles/PMC2266665/
Fu R, Selph S, McDonagh M, Peterson K, Tiwari A, Chou R, Helfand M. Effectiveness and harms of recombinant human bone morphogenetic protein-2 in spine fusion: a systematic review and meta- analysis. Ann Intern Med. 2013 Jun 18;158(12):890-902. doi: 10.7326/0003-4819-158-12-201306180- 00006. PMID: 23778906
https://www.fda.gov/regulatory-information/search-fda-guidance-documents/classification-products-drugs-and-devices-and-additional-product-classification-issues