Product Image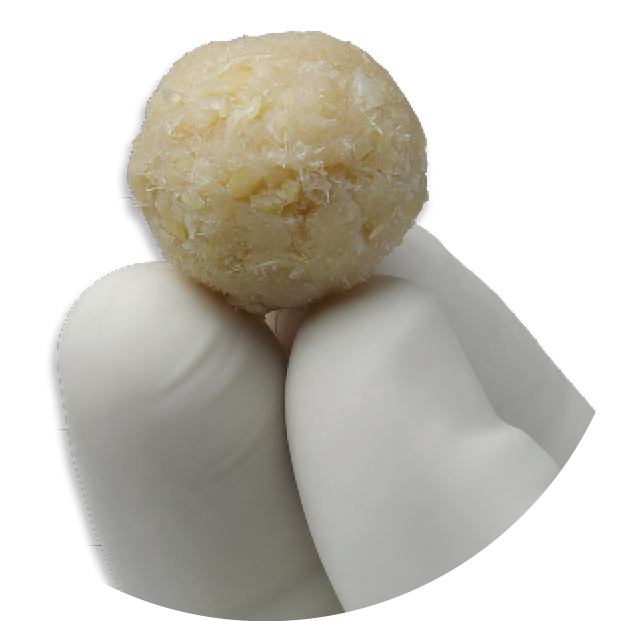 Product Details
Viable Cellular Allograft (CBA)
Viable cellular bone allografts (CBA), also know as cellular bone matrices (CBM) provide a scaffold, signaling proteins, and viable cells, which can be either lineage-committed bone cells or mesenchymal stem cells.1,2 These properties make CBAs the most similar to healthy autograft compared to other types of bone grafts, such as DBMs. CBAs usually contain two components: bone chips which provide the scaffold and osteogenic or potentially osteogenic viable cells; and a second component of demineralized bone which provides signaling proteins.
CBAs come in two forms: a particulate-based version that is meant for packing into contained voids and a fiber-based version that handles more like a putty. Both contain bone chips with viable cells – the difference comes from the form of demineralized bone.
Flowchart Image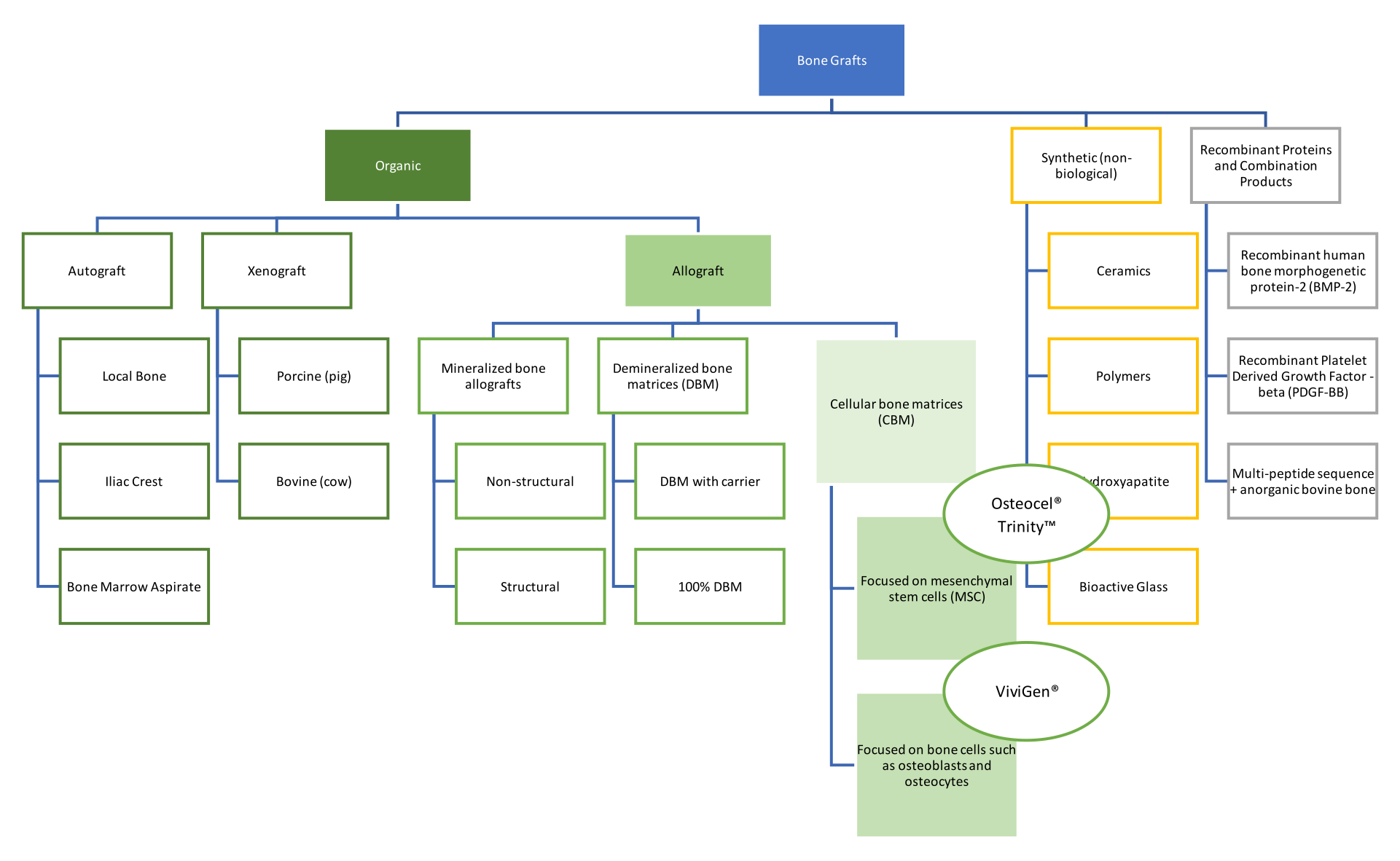 Osteoconductive: Natural bone matrix facilitates cell attachment and proliferation, and vascular in-growth
Osteoinductive: Provides natural levels of proteins that encourage mesenchymal stem cells to become osteoblasts
Osteogenic: Provides lineage-committed bone cells, which can make bone matrix soon after implantation, or mesenchymal stem cells, which can eventually become osteoblasts
Can be used stand-alone in place of non-structural autograft
COMPARISON OF GRAFT PROPERTIES

 
Osteoconductive
Osteoinductive
Osteogenic
 Mineralized Bone Allografts
 
 
Demineralized Bone Matrix
 

Cellular Bone Matrix

Autograft*
Synthetics
 
 
Recombinant Proteins
 
 
Combination Grafts
 
Xenograft
 
 
*Autograft is partially demineralized, and therefore its osteoinductivity (signals) are unenhanced compared to grafts with fully demineralized bone.
Cellular bone allografts can be used to replace non-structural autografts in any bone defect
Cellular bone allografts can provide all three necessary properties for good bone grafting, which is particularly important for patients who are at high risk of a nonunion due to poor health, advanced age, or metabolic conditions which can inhibit bone healing
Click to learn more about LifeNet Health allograft offerings for specific indications 
Image Block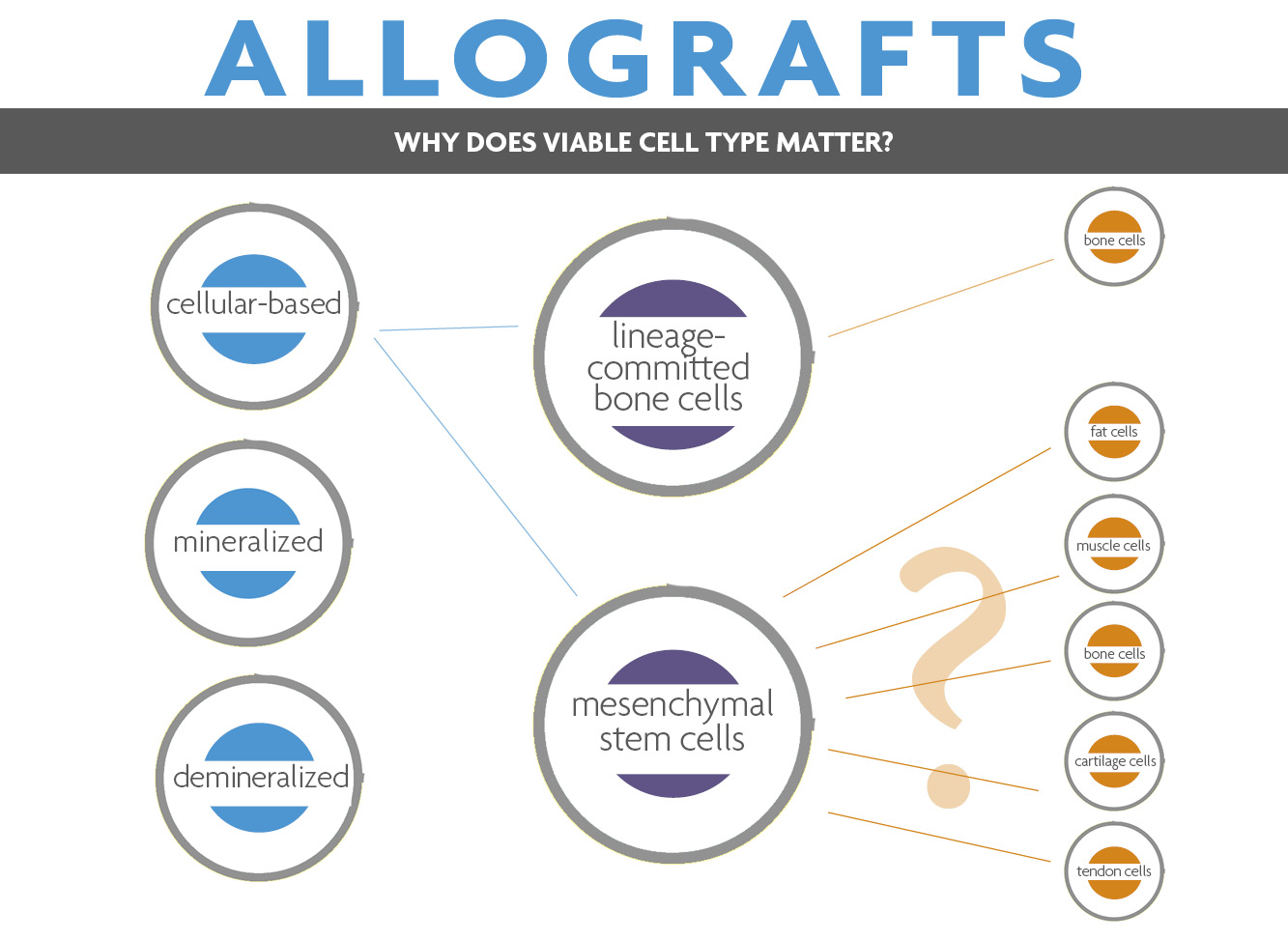 The type of viable cell included in the graft matters
Lineage-committed bone cells (Osteoblasts and Osteocytes)
Advantages:
Cellular Bone Matrix contains actual viable bone cells – no need to wait for differentiation
Can begin making bone matrix almost immediately after implantation
Disadvantages: 
Only one commercial option available
Mesenchymal stem cells
Advantages:
Can become bone cells under optimal conditions
· Many options available
Disadvantages: 
Can also become other unwanted cell types: fat, muscle, cartilage, tendon, and bone
It takes 3-4 weeks for MSC to become (differentiate into) their final cell type
Cells not able to make bone matrix until that process is complete
References
References
Elgafy H, Wetzell B, Gillette M, Semaan H, Rowland A, Balboa CA, Mierzwa TA, McLean JB, Dorsch K, Moore MA. Lumbar spine fusion outcomes using a cellular bone allograft with lineage-committed bone-forming cells in 96 patients. BMC Musculoskelet Disord. 2021 Aug 17;22(1):699. doi: 10.1186/s12891-021-04584-z. PMID: 34404368; PMCID: PMC8369686.
Hall JF, McLean JB, Jones SM, Moore MA, Nicholson MD, Dorsch KA. Multilevel instrumented posterolateral lumbar spine fusion with an allogeneic cellular bone graft. J Orthop Surg Res. 2019 Nov 15;14(1):372. doi: 10.1186/s13018-019-1424-2. PMID: 31730007; PMCID: PMC6858666.